History and trivia
History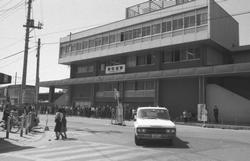 It is located in front of JR Sobu Line Tsudanuma Station, and Tobu Public Hall makes border with Narashino-shi. Around station square changed into more modern commercial city as a result that companies such as large store, city bank made a foray by land readjustment business in succession.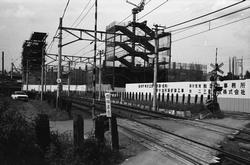 In 1953, we established as Funabashi City public hall Maebara annex and were renamed to "Tobu Public Hall" by reorganization of 1960. By land readjustment business in front of April, 1977 Tsudanuma Station in the present location old newly; was opened.
Public hall data
As of April 1, 2015

| | Area | Area | The number of the households | Population | Men | Woman | Number of users |
| --- | --- | --- | --- | --- | --- | --- | --- |
| Funabashi City | | 85,640 | 285,012 | 624,396 | 313,598 | 310,798 | 2,170,556 |
| Tobu Public Hall | Maebarahigashi, Maebaranishi, Nakanoki | 3,042 | 21,076 | 44,110 | 22,485 | 21,625 | 118,224 |
Origin of the place name
Maebara (rose)
 In 1674 334 years ago, Osamu was opened now in this ground which was large lawn following shitayamaki, and the place name called Maebara appeared in the world. Of course from it past this neighborhood called Maebara is thought that local.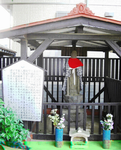 Guardian deity of children storehouse

 "Maebara" The place name saying this is the place name in many places of the whole country, and Yonehara of Shiga is said to be before even if it was Maebara. As for the reason called Maebara, seeing from of Hasama, according to having been "Hara before", it seems this ground. As for the word "front", it is a lot in the place name mainly meaning surudearukotoga in "the south". However, as for around the label ground, there was already tradition that powerful family lived in, and there was to the south; "Shoji seems to tell pond" in it. In addition, Maebara Osamu included around current Tsudanuma Station at first, but is said to be when we handed 30 as commonage with Yatsu and kyu ゝ field. Therefore this neighborhood was subsection of "30".
 There is guardian deity of children storehouse where we engraved story in the days of Osamu establishment into in hermitage (temple) with way close to new Keisei Maebara Station.
Nakanoki (that come)
 As for the Nakanoki, old villages line up to one line in the foot of plateau of the south side on plateau that is slim in east and west where former Harakawa, the south side were put to Nakano Kikawa in the north side. Therefore it might be said that village was not seen anywhere though we had bus stop called Nakanoki entrance in national highway. We do not know the origin of Nakanoki well. Probably it seemed to be Shussaku place of upper Hasama (the present Hasama 2.3 chome) and can look at deep place of relations. Because and the place name called Nakanoki does not appear or we appear, it is revealed that this thing looks at document and Map of the Edo era.
 Of Nakanoki "let's be meaning called between Hasama and south Maebara. "Nogi" is thought about in two meanings.
One is viewpoint to let you do form of plateau that lengthened to the west into a peninsula form. The second Nogi of nuki spoke with a provincial accent, and there is opinion to say to tell the topography of cliff. We lost the third from one with nogata, I mean field or the word to clear and cultivate plateau. There is explanation to hint at village in place name etymology dictionary in Funabashi.
(sentence: place name workshop Shoji Takiguchi)
"Crossroads limit of Nakanoki" (Funabashi City immaterial folk cultural assets)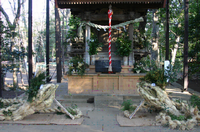 The left male the large snake right laid in front of main hall is female
 Do you know crossroads limit of Yasaka-jinja Shrine at 1, Nakanoki?
 Crossroads limit is performed by event to pray for so that demon and plague do not enter village every year on Hatsuuma in February.
 At first local deities who gathered in Yasaka-jinja Shrine makes snake to display in own house. We are divided into two sets of east and west and produce one large snake afterwards. We wind up coil in front of main hall, and large snake which becomes approximately 5m in length when completed is fixed facing each other and gives sacred sake. East and west is 4-5 people each and, after feast (there is me), goes to place to give glory to with large snake. When they are divided on the way, two large snakes put their story together. We can coil ourselves around southwest of village and grove of the northeast roadside and are the end afterwards. How about going to see large snake protecting this village for one year by all means if we may go to Nakanoki? Small large snake of each your before a gate is wonderful, too.
Inquiry about this article
Tobu Public Hall

Telephone 047-477-7171
FAX 047-477-7172

〒274-0825 2-21-21, Maebaranishi, Funabashi-shi, Chiba (Tsudanuma Liaison Office)

Time in: It is holiday at 5:00 p.m. (as for the opening until 9:30 p.m.) from 9:00 a.m.: It is January 3 from holiday, December 29 on Sundays and holidays on Monday every month last principle
Please cooperate with questionnaire
For quality improvement of website, please let know impression of this page.
When you can have impression in detail, please send from email form.