Funabashi City H.C.Andersen park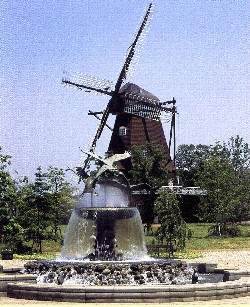 H.C.Andersen park is park where green comprised of naughtiness kingdom, hill of fairy tale, child Museum, natural experience, five zones (repent, and come) of castle of flower is rich in.
There are facilities which can play at ease freely, and, in naughtiness kingdom zone, adult gains popularity including field athletic let alone children including lawn open space, contact open space with pony and small animals, too.
Hill zone of fairy tale reproduces Danish rural scenery of the 1800s when world-famous writer of children's story, Andersen including Danish style windmill and farmhouse played an active part.
Child Museum zone can experience pleasure and joy that children make.
Walk road surrounds natural Disaster Simulation Zone around waterside and rice field where damp plants grow thick and can experience nature of seasonal village forest.
Castle zone of flower is new zone where art object and playground equipment reflecting the image of Andersen children's story were placed, and small children can enjoy play of creation and imagination.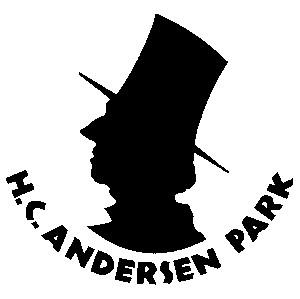 Hill of fairy tale
Children's story building
We can rediscover the deep charm including person image of world-famous writer of children's story, Andersen, the town of Denmark Odense and introduction of nature.
Statue of Andersen
Odense city where it was admitted reproduction for the first time out of Denmark becoming, statue of Andersen of H.C.Andersen park.
Height 2 to envy. 8 meters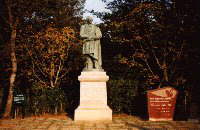 What kind of person is Andersen?
The name is called "Hans Christian Andersen".
1805 is April 2 not to sleep or is born as poor shoemaker of birth Odense.
We follow 1819 in nomiyako, Copenhagen, Denmark to become 14 sai actors who does not sleep.
We pass entrance examination) of 1828 23 sai University not to lie. We begin to follow path as writer. Afterwards, we travel in various parts of Europe.
40 sai "minikuiahirunoko" where 1845 does not lie, "match urinoshojo" writes "we hide thumb" "naked state to chase".
1875 is 70 sai August 4 not to sleep or dies in Copenhagen
Windmill
Pull Danish style powder which Danish windmill craftsman dealt with; windmill.
hontainotakasa 16. 4 meters
1 mainohanenonagasayaku 11. 3 meters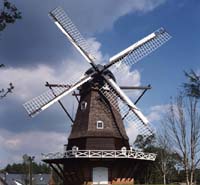 Events open space
As for the fountain of the open space center where we spread stone of the production in Denmark all over, children's story "minikuiahirunoko" becomes motif.
4 that high image of central swan envies. 2 meters.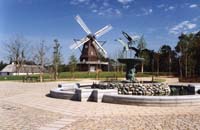 Community center
Outer wall and lattice window of crimson become Danish building.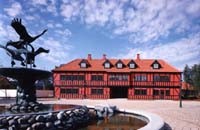 We reproduce farmhouse of farmhouse Denmark
Roof displays reed bukide, bed inside at the time or wooden nonaga bench, closet, farming implements.
Solar pond
hirosayaku 1. 6 hectares. (16,000 heiho meters to envy)
Other than area to be able to enjoy boat play, there are small living things and space touching where reed, plants of waterside including reed mace grow thick.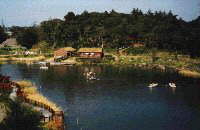 Solar bridge
13 meters of bridges to burn bind 84 meters, height that length burns naughtiness kingdom zone and hill zone of fairy tale together.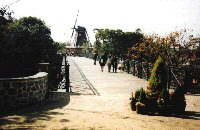 Boathouse
Boat platform of solar pond is farmhouse-style building which set lawn on roof in Europe.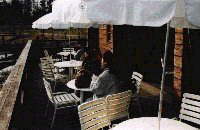 Naughtiness kingdom
Athletic of forest
Field athletic proud of one of the most scales in Japan.
Let's challenge family, adventure, forest of test of strength, four courses of dynamic.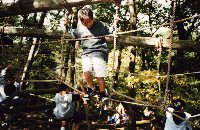 Naughtiness castle
There are roller slider to slide down dynamically and rope slider who is popular among all.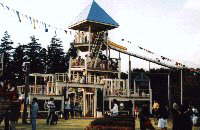 Large slide
From tower top of naughtiness castle, let's slide down length of 50 meters at a stretch!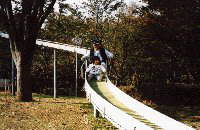 juemu tower
It is tower which made ""juemon" of strong person gentle at heart" coming up in old folktale of Funabashi motif.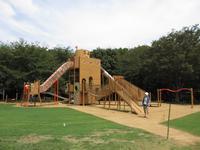 Image that "causes peace"
Taro Okamoto production
There was in October when 1988 did not lie down as image of peaceful city declaration memory symbol of Funabashi City.
nijino pond
Rainbow appears on day when it was fine.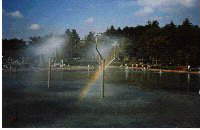 Spring of Archimedes
"It is water learning facilities where we arranged spiral type pump, screw, teko-type water pump, footrail waterwheel that Archimedes devised for.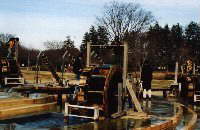 Pony open space
We can get on pony by previewing of a horse to be entered in a race. 50 meters to envy one lap.
There is contact open space with small animals such as goat, sheep, rabbit, marmot, too.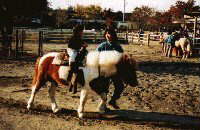 Heteromorphic bicycle
We ride various bicycles including model with classic car and hood and can run in green grove.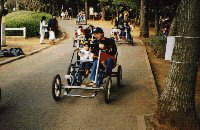 Naughtiness ball island
It is island that there was in lawn open space from colorful ball of a lot of big things and small things.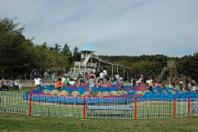 Natural experience
It is waterside of village forest where we made use of existing forest place and damp ground where it was next to northwest side of naughtiness kingdom zone in.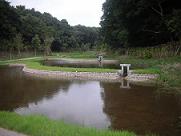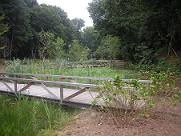 Child Museum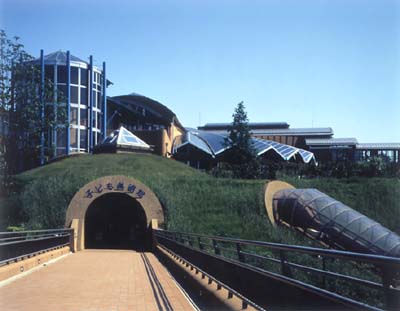 Let's make various things with own power.
Atelier of meal
Atelier of dyeing and weaving
Atelier of ceramic art
Atelier of tree
Atelier of print
The underground building
Friend, metasequoia of cedar. Let's observe the mysterious world of state and the underground of root of delicate tree powerfully.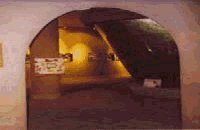 Andersen studio
We transform ourselves by clothes and makeup and can experience Andersen children's story.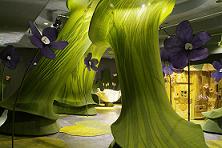 H.C.Andersen park is paid park
Entering a kindergarten rate is necessary to enter park.
General 900 yen
Primary and secondary student 200 yen
Infant (4 saikara) 100 yen
Parking lots 500 yen
There is very attractive annual passport.
It is replaced by season on opening time, closure day.
We want to know in detail
We can access homepage of H.C.Andersen park from the following link
In detail to H.C.Andersen park
Phone 047-457-6627
Contact information
Parks and Green Spaces Section administration/phone number: 047-436-2555/FAX: 047-436-2539/ Email form
〒273-8501 2-10-25 Minato-cho, Funabashi, Chiba
Hours : 9:00 a.m to 5:00 p.m./holiday : Saturday, Sunday, National Holidays, and Year-end & New Year Holidays (Dec. 29 - Jan. 3)